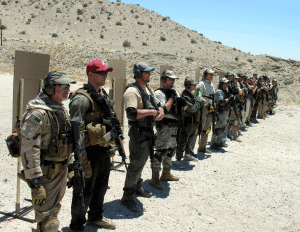 As a combination of fundamental and intermediate skills. This course is designed for the AR15/M4 and other carbine/battle rifle platform, in a semi formal and moderate pace period of instruction. The students will cover material of and be coached through the weapons characteristics, fundamentals of marksmanship, malfunction drills, different shooting positions, mechanics of employment, and the break down and maintenance of the weapon system. As well as participating in various exercises and live fire drills. The entire course will be conducted on the range so that we maximize the students practical application of the skills and methods covered. This course is one perfect for shooters, beginner and seasoned due to the exercises that hone on the fundamentals or basics of running and gunning. To become an advanced shooter is to have a strong grasp of what is the foundation of fluidity of employing your tool.
Prerequisite:  None
Firearm: AR-15 / M4 Rifle, Mini 14, AK's – with iron flip up sights or optic.
(No caliber specific)
Ammo Count: 250rds min. (Training ammo)
Length of Course: 1 day – Start time 09:30am
Gear List: Eye & Ear protection, 4 rifle magazines, magazine pouches for belt or kit, rifle single or two point sling, shooting gloves optional, knee & elbow pads optional, shooting mat optional, shooting bag optional, tactical kit optional.
       ( We have some extra gear to lend out if needed. Limited! Contact for inquiry.)
( Their are a limited number of rifles/AR's in .223/5.56 to rent for $15. You provide the ammo )
Students will provide their own hydration and snacks/food.
Minimum students to run course: 5                      Max Student slots: 15
FEBUARY dates Pending!
COURSE PRICE: $125.00
—
Gun Only Rental: $15.00
—
Gun & Ammo Rental: $130.00