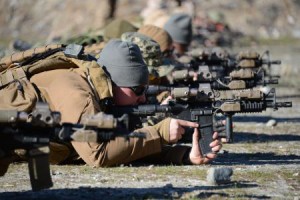 In Carbine Employment 2 we will introduce the second level of training to the Carbine Employment series of training systems course. This course will be conducted in a semi formal and moderate to fast pace. The students will cover material of and be coached through the introduction of engaging multiple targets, shooting from cover and barricades, reactive shooting, unconventional shooting positions and stress shooting . As well as participating in various exercises and live fire drills. The Silverback Training Systems methodology is to establish a strong foundation of the fundamental skills while providing the student with practical and effective training that assure the student in self confidence to fully employ his/her firearm to respond and overcome a situation whether for personal protection or in the line of duty.
Prerequisite:  Carbine Employment 1 or Equivalent.

Firearm: AR-15 / M4 Rifle, Mini14, AK's – with iron/flip up sights or optic.
(No caliber specific)
Ammo Count: 450rds min. (Training ammo)
Length of Course: 1 day – Report time 08:30am
Gear List: Eye & Ear protection, 4 rifle magazines, magazine pouches for belt or kit, rifle single or two point sling, shooting gloves optional, knee & elbow pads optional, shooting mat optional, shooting bag optional, tactical kit optional, weapons cleaning kit. Tactical kit/gear optional but not a bad idea.

       ( We have some extra gear to lend out if needed. Limited! Contact for inquiry.)
( There are a limited number of rifles/AR's in .223/5.56 to rent for $15. You provide the ammo )
Students will provide their own hydration and snacks/food.
" Active/Reserve Law Enforcement can receive 8hrs TCOLE for this course"
Check Calendar!

PRICE: $145.00