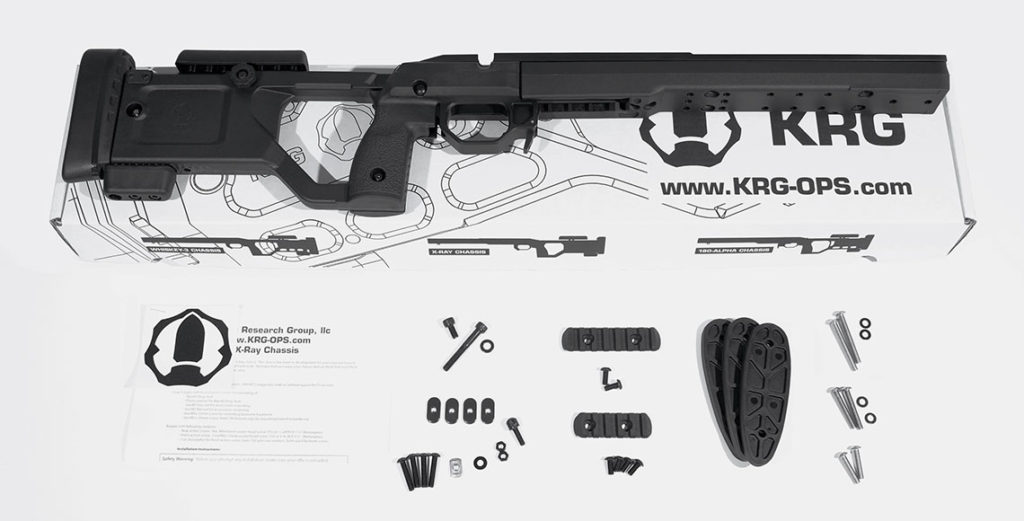 GENERAL INFO FOR XRAY CHASSIS
X-Ray Chassis (Generation 3 Chassis) Unprecedented value…This is what the X-Ray chassis provides to you. When you pick up the chassis, it will feel nice and light compared to other chassis. You'll have nearly identical ergonomics to the Whiskey-3 with only a little more time involved in adjusting the different aspects like the length of pull. Furthermore, you'll have all the standard benefits of a chassis like the use of AICS magazines, a variety of mounting points for slings, barrier stops, etc., and V-bedding for the action while not having to sell off a kidney to pay the price of admission. To accomplish our design intent, we kept the features that everyone wants and needs and eliminated those that weren't necessary. Then we utilized efficient manufacturing processes to keep production costs down and in turn keep the price to the shooter down. The end result is a hybrid aluminum and polymer chassis that we think you'll love. We're proud to present the X-Ray chassis, the result of years of careful design, thought, refinement, and hard work. ***New Gen 3 is shipping now. The change is a new forend which is the same on the Bravo Chassis. It now has side MLok Mounting positions!
*** For Rem 700 & Rem 700 type/clone actions
&
*** Tikka T3/T3X/CTR/etc (short action calibers only)
 !

THIS ITEM CAN NOT SHIP OUTSIDE THE USA !
CONTACT PRIOR TO PLACING ORDER VIA EMAIL
SALES@SILVERBACKGUNLOCKER.COM
---
---
---
---
⇓ Additional Information & Pictures ⇓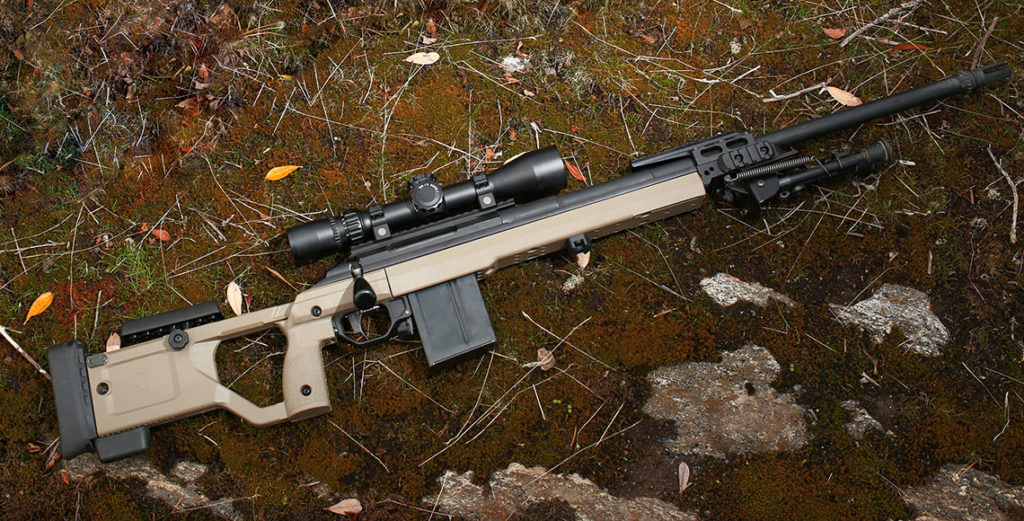 Polymer for light weight and to eliminate heat transfer to/from the shooter's hand.
Mounting holes at various positions will take L2 Picatinny rails, Tripod Mount, Barrier stop, etc .
Access hole for action mounting screw, so you can remove the action without removing forend.
"Backbone"/Chassis:
Polymer for light weight and to eliminate heat transfer to/from the shooter's hand.
Access hole for action mounting screw, so you can remove the action without removing forend.
V-bedding system which is CNC'd into aluminum for consistent contact between action and chassis.
Hardened stainless steel recoil lug instead of aluminum ones found on stock T3's.
Rem 700 version can accommodate most large aftermarket recoil lugs like the Badger Ordnance lug without any or with only slight modification.
Accepts the Whiskey-3 gen 3/4 Spigot Mount.
Designed for 5 or 10 round AICS magazines (with or without front spacer plate in T3, with spacer plate only in Rem 700 unless you have a modified action).
Will accept any barrel contour up to 1.15" straight cylinder.(Will take standard 1.25″ barrel shank and have clearance for that diameter out to about 4″ past action face)
Trigger Guard/Mag catch:
Similar in shape to TRG trigger guard but made of aluminum instead of Delrin.
Will accept Barnard trigger for T3 as well as factory trigger.
Rem 700 version will accept the new x-mark triggers and nearly all aftermarket triggers but some aftermarket triggers may require modifications to the trigger or chassis.
Mag catch is the same as the Whiskey-3 but the catch extender button is an optional item.
Cheekpiece/Handgrips:
Cheekpiece infinitely adjustable within range (1" travel).
Cheekpiece can be quickly removed and re-installed, uses a clamp and thumbscrew design.
Includes a simple feature to make the cheekpiece return to the exact height you set it.
Cheekpiece can be moved forward or backward with one alternate position.
Cheekpiece made of polymer to not transmit heat to or away from your face.
Small grips are standard fitment. The larger grip size is an option during checkout or in our Products/Accessories section of the website.
Ω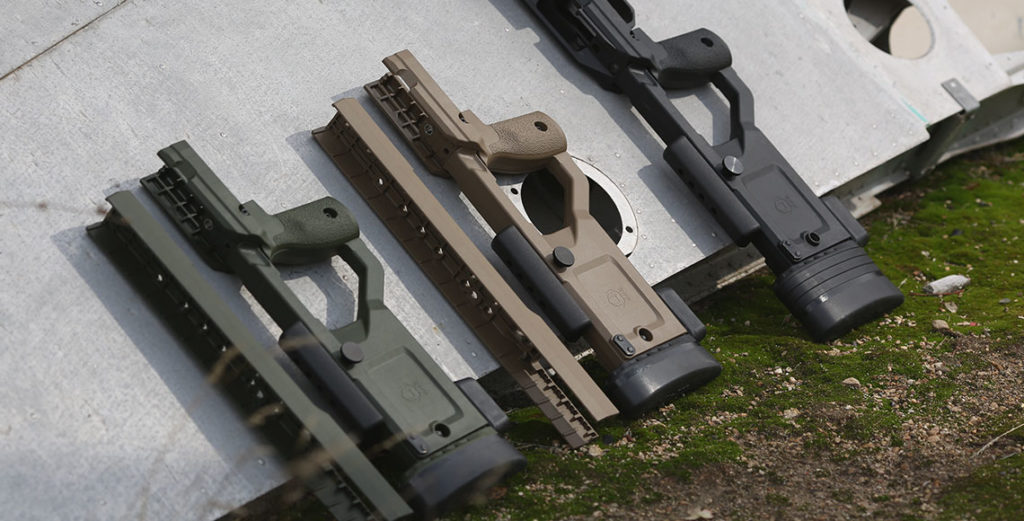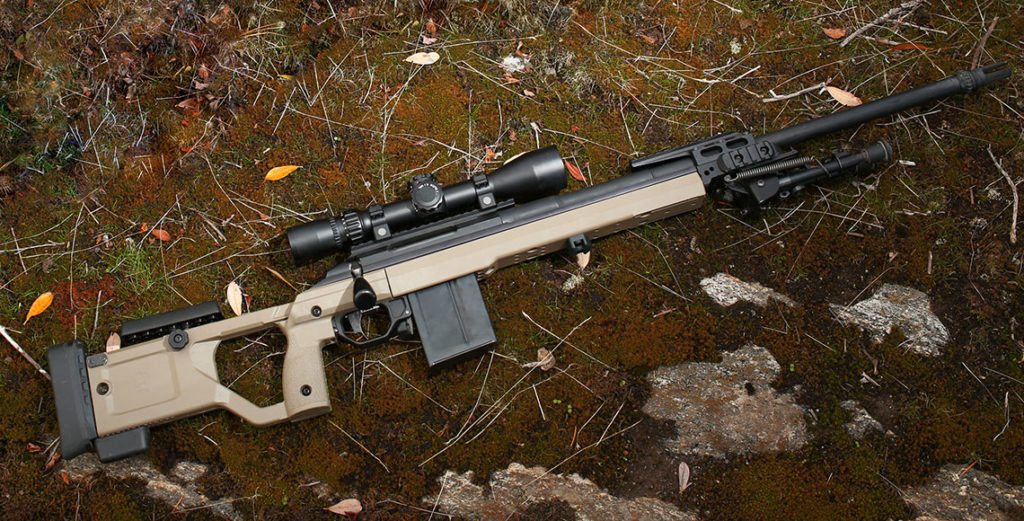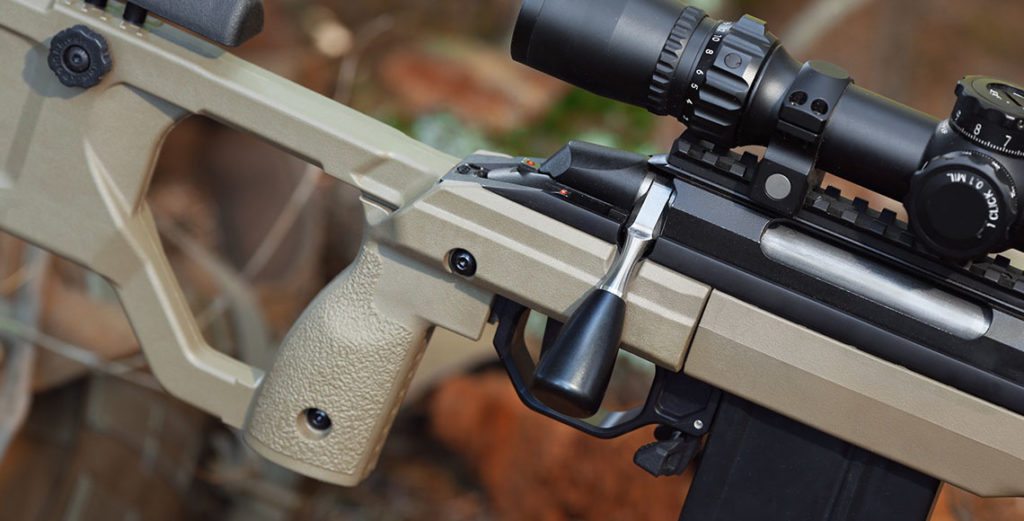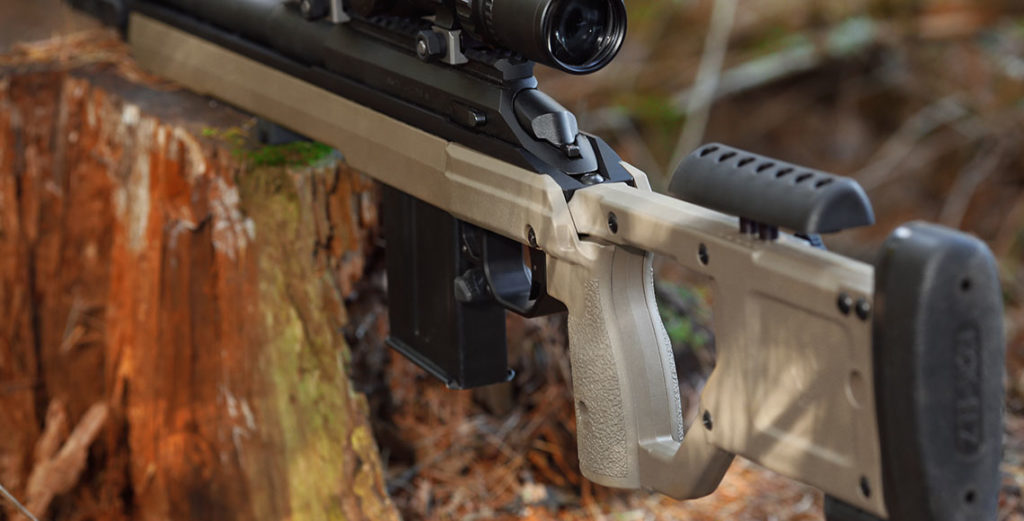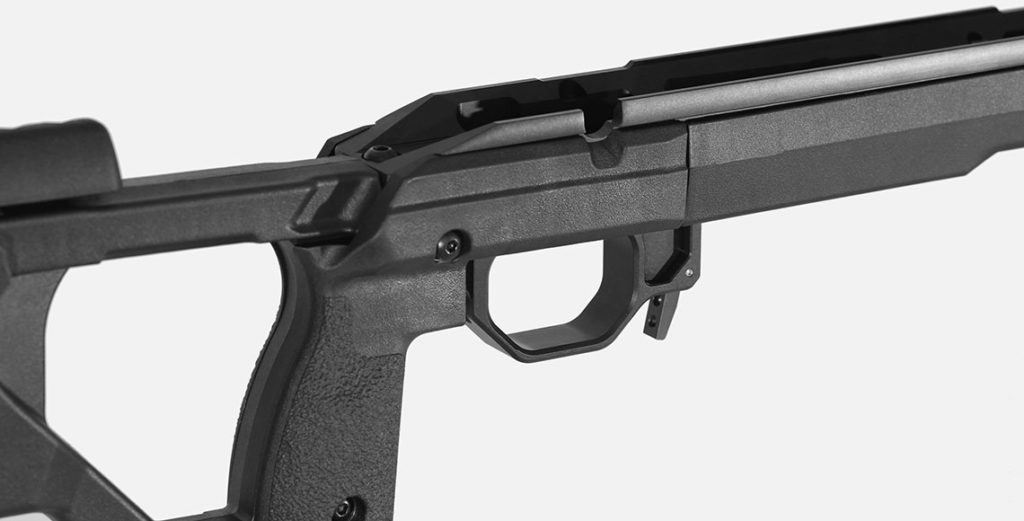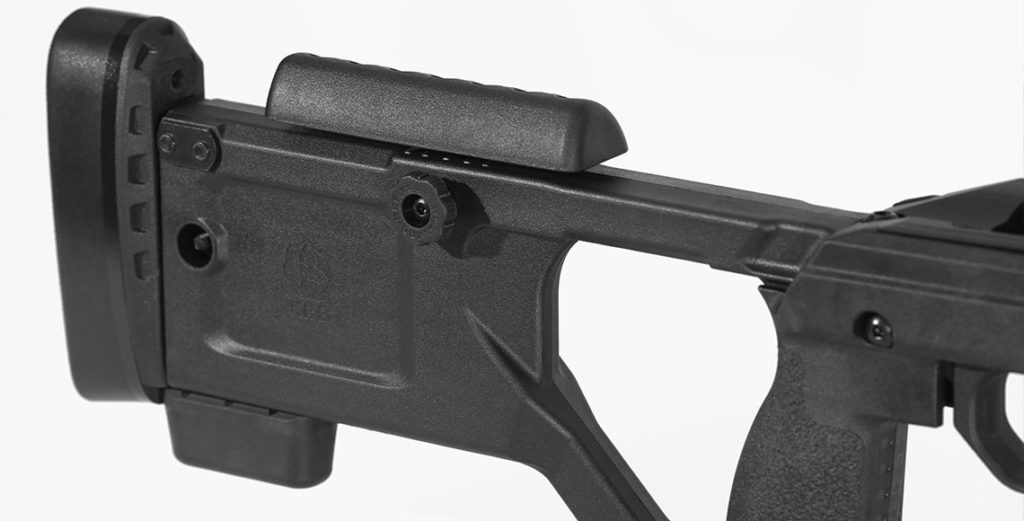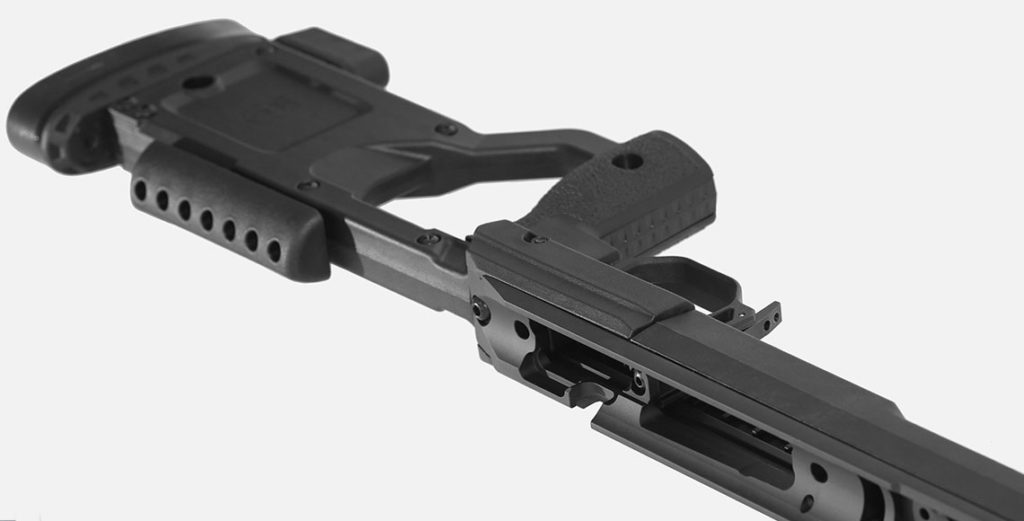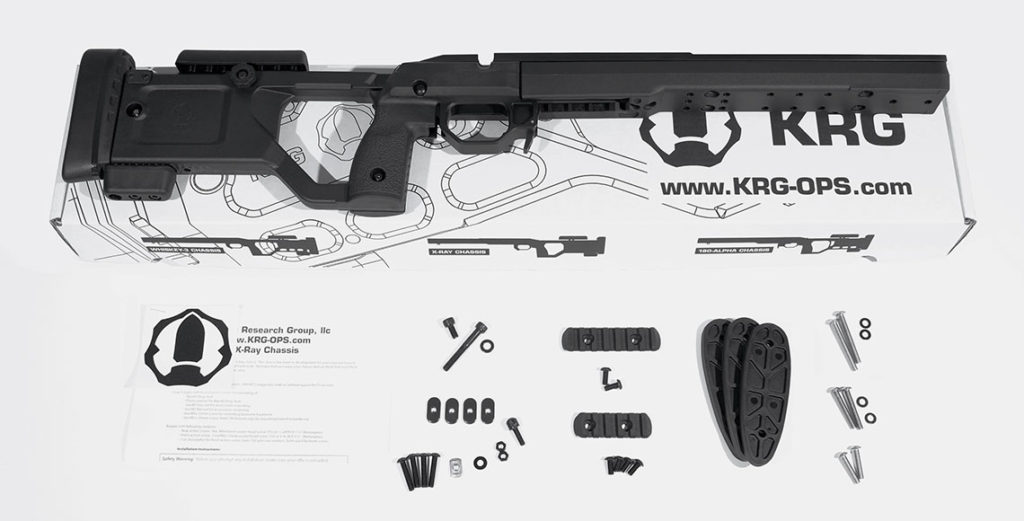 ⊕