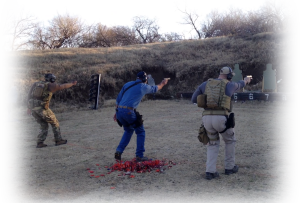 In Handgun Employment 2 we will introduce the second level of training to the Handgun Employment series of training systems course. This course will be conducted in a semi formal and moderate pace. The students will cover material of and be coached through the introduction of engaging multiple targets, shooting from cover and barricades, shooting single handed bothe strong hand and weak handed, shooting on the move and stress shooting . As well as participating in various exercises and live fire drills. The Silverback Training Systems methodology is to establish a strong foundation of the fundamental skills while providing the student with practical and effective training that assure the student in self confidence to fully employ his/her firearm to respond and overcome a situation whether for personal protection or in the line of duty.
Prerequisite: Handgun Employment 1 or equivalent
Firearm: Serviceable handgun .38spcl or 9mm min.
Length of Course: 1 day starting @ 09:30
Ammo Count: 400 rounds min.
Gear List: Eye & ear protection, 3 magazines min. or speed loaders, magazine pouches on belt/duty gear/tact. kit, shooting gloves optional, hip or drop leg holster, knee & elbow pads optional, firearm cleaning kit.
NO SLOTS OPEN
PRICE: $125.00