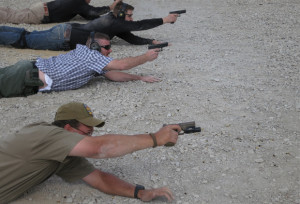 This course is the initial iteration of a multi-tier training concept. The training will be conducted in a semi formal and moderate to fast pace. Core concepts of this course are firearms characteristics, fundamentals of marksmanship, basis of firearm safety and weapons handling, malfunction drills, mechanics of employment, gunfighter mentality and alternate shooting positions. The Silverback Training Systems methodology is to establish a strong foundation of the fundamental skills while providing the student with practical and effective training that will instill confidence to fully employ their firearm to respond and overcome many situations.
Prerequisite: NONE other than ready to put in some training!
Firearm: Serviceable handgun, .38spcl, 9mm, .40s&w, .357sig, .45acp, .357mag
( If you do not have a handgun and would like to attend, NO Problem, Rent one of ours! )
Length of Course: 5-6 hours / Typically 10:00am to 4:00pm
Ammo Count: 300 rounds min.
Gear List: Eye & ear protection, 3 magazines min. or speed loaders, magazine pouches on belt/duty gear/tactical kit, shooting gloves optional, hip or drop leg holster, knee & elbow pads optional, firearm cleaning kit. Students will be drawing from the holster! No chest holsters!
NOTES: The students will be given 30 minutes for a snack/lunch half way through the course.
COURSE PRICE: $110.00
SCHEDULED DATES:

     28 JAN 2017 CLOSED
–
28 JAN 2017 CLOSED REGISTRATION
–
Gun Rental & Ammo: $85.00